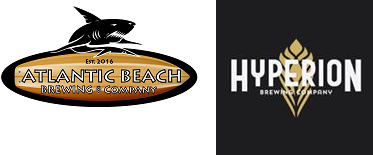 As they celebrate their one-year anniversaries in May and head into Year Two, catch up with the area's "former" brewery newbies, Atlantic Beach Brewing Company ("ABBC") and Hyperion Brewing Company ("HBC") on what that first year's been like for each of them.
Since opening day 2017, and with the motto of "Aggressively Pursuing Craft," co-owners Spencer Horn, Linda Horn and Chuck Horn and Brewmaster Rory Malloy have expanded the draft list, released several specialty bottles, and began canning and distributing three core beers ahead of schedule.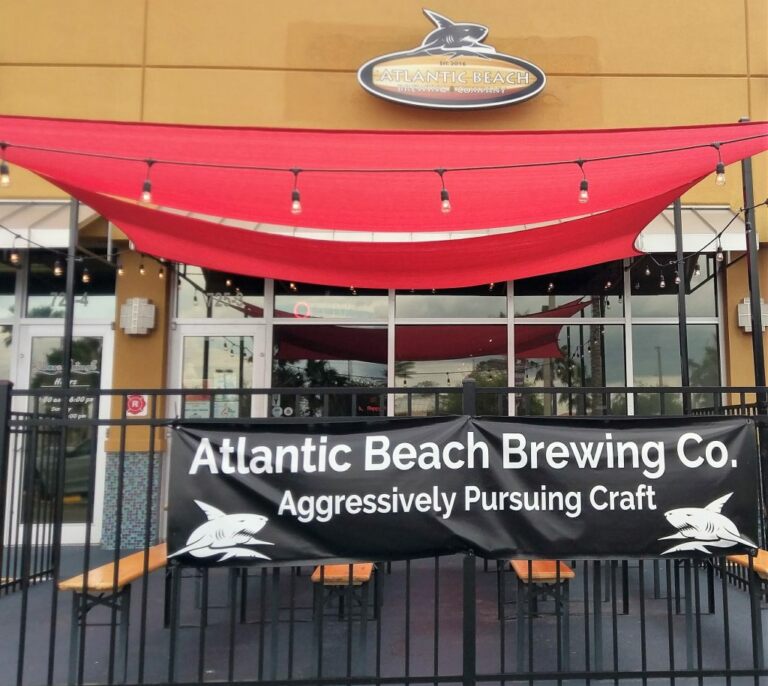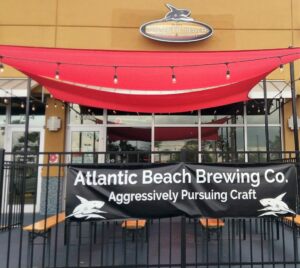 Meanwhile, in Springfield, Hyperion Brewing introduced its "Bold, Rebellious Beer" concept, with constantly-rotating taps. Over the year, owner Alex McKeown and the brewery staff have engaged the local community in a number of hosted events, along with tapping over 200 new beer recipes.  Hyperion will bring several of its most popular beers on board on a regular basis in Year Two.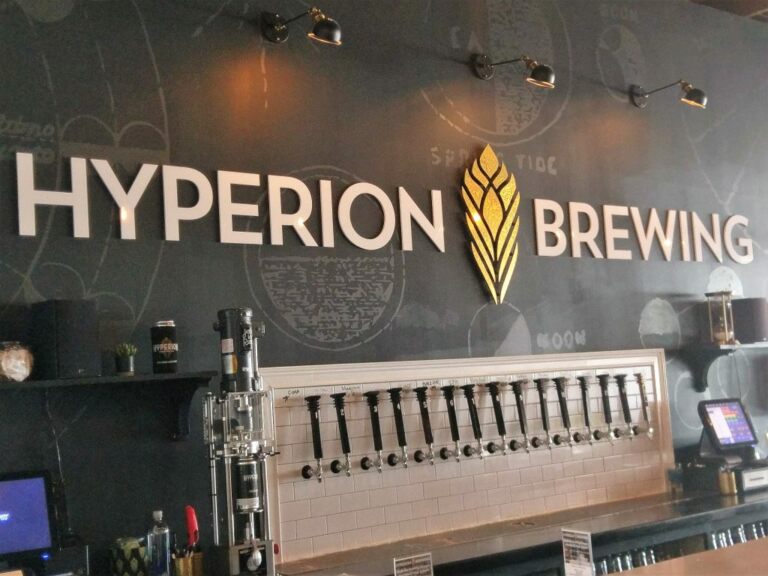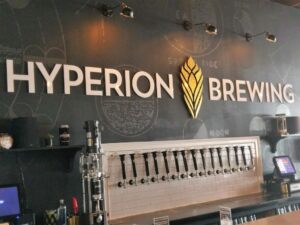 In a word, describe Year One of your brewery:
ABBC: Enlightening
HBC: Rollercoaster
In a word, describe your what your personal experience in the first year has been like:
ABBC: Fun/intense at the same time (Ok, that's two words, but we'll go with it)
HBC: Surreal
How has the reality of the brewery aligned with your expectations and visions during the planning stages?
ABBC: More intense and exciting. It's a 7-day a week, 15-hour-a day endeavor.
HBC: The concept of "flights v. flagships" has been fun. Exhilarating, frustrating, highly experimental, with over 200 new recipes. Becoming the neighborhood bar we hoped to be for Springfield has come true.
What have you learned most about the brewery business after being open a year?ABBC: To be more patient.
HBC: If something can break, it will. And, the thing you didn't think would break… will.
The two breweries collaborated on a beer (Squid Ink Gose), offered at separate Asian-themed beer dinners in April. How did that come about?
ABBC:  Squid Ink was an off-the-cuff idea that seemed to stick; it screamed Gose, being dark and briny. We brewed the beer at each location.
HBC: Sarah, owner of Hottie Dawgs, had produced beer pairing dinners with ABBC, and we connected. With the success of the ABBC dinners, we decided to collaborate with Hottie Dawgs and ABBC together. Matt and Rory sourced a few ingredients of their own and did a brew day at each brewery.
Some individual brewery insights:
ABBC currently distributes three "core" beers, Two Minutes Session IPA, Mayport Red, and Duality IPA, in cans and on draft. Where does the distribution reach?ABBC: We're as far south as New Smyrna Beach and to DeLand. We just signed a distribution agreement for Orlando and the Space Coast through Melbourne, starting in June.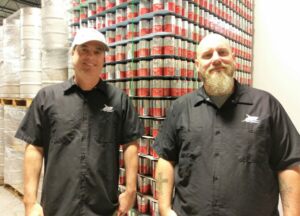 HBC is located in a community-focused area of Jax (Springfield) – How has your relationship with the community grown over the year?
HBC: We have become engrained in the local neighborhood. We incorporate local ingredients into our beers; participate in Springfield events, such as Springfield Tour of Homes and PorchFest; host charity events.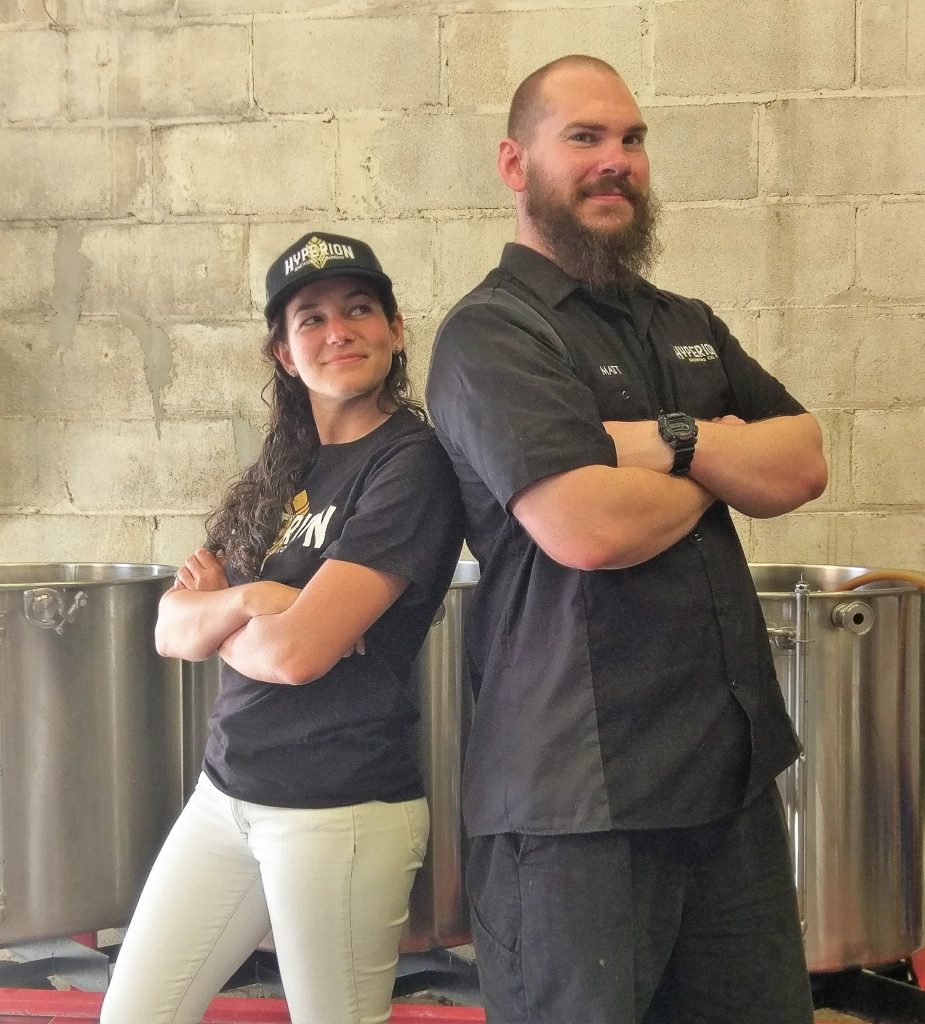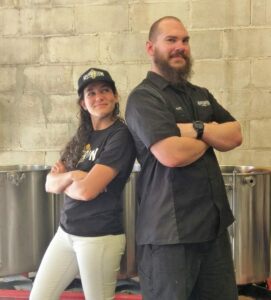 What is Hyperion's "Helios Brewer's Experience" program all about?
HBC: It's the opportunity to be a brewer for a day. Guests can choose from an assortment of recipes/styles or create a custom beer. Each Experience includes Crowlers to take home after the brew is completed, and there's a Release Party in the tap toom.
How about a little inside info?
Are there any major plans in the works for Year Two that you can let us in on?ABBC: We'll be expanding our distribution footprint. We're moving down the coastline with cans and kegs.
HBC: We'll finally announce our first three core beers; and release them during the Anniversary Weekend. The first is our Peanut Butter Porter. For Year Two, we'll have three cores, three seasonal cores, and seven one-offs on tap.
Note: The Peanut Butter Porter was released in June 2017, and sold out in three days. Hyperion Brewing is looking for your help in naming the beer, too. Take a try at creating a unique name for the beer, and enter your suggestion HERE.
What have been the most fun parts of the brewery business?
ABBC: Events and festivals, getting to interact directly with our fanbase!
HBC: Taking an idea from its concept, implementing it into our brewery (new beer, event, partnership) and watching the consumer respond.
Now, how about those big One-Year Anniversary parties planned for May 2018? ABBC hosts its Anniversary Bash Saturday, May 5, beginning at noon. Festivities include a new bottle release of ABBC's 98th Street Imperial Stout, aged in bourbon barrels for a year. And, look for another "surprise" barrel-aged release, along with a collaboration brew and various treatments. Hottie Dawgs features specialty dogs and cupcakes. Live music, raffles, games and prizes throughout the day. And, it's also Cinco de Mayo, so be ready to party! Atlantic Beach Brewing Company is located at 725 Atlantic Blvd., Atlantic Beach.
HBC takes the party weekend-style, covering May 18-20. Opening at 4pm on Friday, May 18, and at noon on Saturday and Sunday, the weekend features new beer releases, food trucks and live music. Waiting for the suspense of the announcement of the core beers? That's at 12:30pm on Saturday. Hyperion Brewing Company is located at 1740 N. Main St., Jacksonville (Springfield).
Congrats to Atlantic Beach Brewing Company and Hyperion Brewing Company!
Cheers!
Linda Johnson, Certified Cicerone®
(All photos by Linda Johnson; article excerpted from http://www.brewnymph.com)
Linda Johnson is a BUZZ Contributing Writer (beer!) and founder of the beer and travel website, BrewNymph.com, covering all things Florida beer from news to events. She is the first female Level 2 Certified Cicerone® in the Jax area, one of seven in the metro area, and the only Level 2-certified independent beer writer in the state.