Vero Beach brewery Walking Tree Brewery will begin distribution in the greater Jacksonville area in February 2018.
The brewery has partnered with Jacksonville-based Champion Brands to bring the Walking Tree Brewery beers to the markets of Duval, Nassau, Clay, Putnam, Baker and St. Johns counties. "Walking Tree has a reputation for making great beer that precedes their arrival to the Northeast Florida market.  We're fortunate to partner with such an awesome group of people as we continue to grow craft beer in our area," said Earl Sutton, Champion Brands Off-Premise Craft Brands Manager in a statement released by the brewery.  "Between the shared values of our companies and the unique offerings for our market, we can't wait to get these beers on tap around town."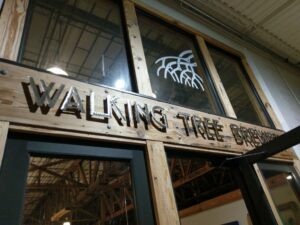 Opened in June 2016 in a 24,000 square foot facility, Walking Tree Brewery earned a number of awards during its first year in operation.  In addition to taking home the top spot as Best Small Brewery in Florida at the Best Florida Beer Championship in March 2017, the brewery also was awarded a Gold Medal for its Barnacled Manatee Barleywine, a Silver Medal for Duke Snider's Imperial Stout, and a Bronze Medal for White Walking Tree IPA.  The year ended with a Bronze Medal for its Duke Snider's Imperial Stout at the 2017 Great American Beer Festival in October 2017. Its Barnacled Manatee Barleywine is only brewed once each year. The brewery celebrated its first anniversary in July 2017.
Customers in the greater Jacksonville area can look forward to Walking Tree Brewery beers on draft in bars and restaurants in early February, beginning around February 7.
Launch events around the Jacksonville and Northeast Florida areas to introduce Walking Tree Brewery to the local markets are currently being planned and will be announced soon. In addition to the beers mentioned above, the brewery produces a number of different beer styles, such as its Sandy Feet Pale Wheat Ale, Straw Hat Blonde Ale, Prop Root English Pale Ale, Babycakes Oatmeal Stout, Le Frog Saison, Mr. D's Dortmunder, among others. It has also instituted a barrel-aging program and released barrel-aged versions of its Barnacled Manatee Barleywine and Breconshire Imperial Porter last year.
Walking Tree Brewery is located at 3209 Dodger Rd., Vero Beach.
Cheers!
Linda Johnson, Certified Cicerone®
Covering Florida's beer scene, and locally around the greater Jax area
(adapted from http://www.brewnymph.com)
Linda Johnson is a BUZZ Contributing Writer (beer!) and founder of the beer and travel website, BrewNymph.com, covering all things Florida beer from news to events. She is the first female Level 2 Certified Cicerone® in the Jax area, one of seven in the metro area, and the only Level 2-certified independent beer writer in the state.