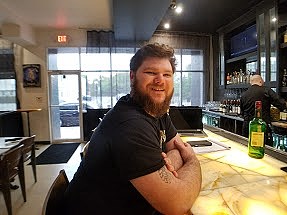 Written by Anna Heise  @annaeatzjax.com
Cory Berlin, the Bar Manager at Bistro Aix is the epitome of what any employer would want running their business.  Moving up through the ranks of Forking Amazing Restaurant Group this engaging and funny person is a significant asset to the team.  He is dedicated to everything about the business and making  Bistro Aix  the go-to place for food and beverages here in Jacksonville.  I for one am happy to have had the opportunity to sit and talk with him about bar life at Bistro Aix.
What is unique about the Bistro Aix bar?
What I focused on with our cocktail program this time was taking classic cocktails and imparting a French twist.  One example a drink we call the Parisian Sour a play on the New York Whiskey Sour or the Manhattan on Rhone using spirits such as Bastille Blended or Single  Malt Whiskey, Bauchant Orange Liqueur and other French spirits.
Do you offer  Happy Hour or weekly drink specials?
 Yes, we do, Monday through Friday we offer drink and food specials from 4:30 to 6:30 During that time we offer discount prices on our house Classic Martini, selected cocktails, plus all draft and bottle beer discounted as well as our wine.
Do you serve any local spirits or brews? 
All the draft beer is local, plus we have a rotating tap beer; still local but changes on a regular basis.  Currently, we are offering a Southern Swells product.
The spirits we source from Marlin and Barrel located on Fernandina Beach, 2nd Street Gin and the Venture Vodka also a Marlin and Barrel products. We also carry Manifest Distillery spirits.
Tell us about your best-selling drink. 
I would have to say the Aixoise Martini, made with Marlin & Barrel Venture Vodka, Dry Vermouth, garnished with Bleu Cheese Olives. The second on the list would be the Woodford Workhorse Woodford, Lemon Rosemary Simple Syrup, Yellow Chartreuse, Ginger Beer, Candied Ginger, and Lemon and then there is the Brooklyn, Bulleit Rye, Carpano Antica, Luxardo, Orange Bitter, Orange Peel served on a gentleman's ice cube.
Do plan on offering entertainment?
We have not started yet, but it's an area we considered bring back. It would be a Friday and Saturday night event, starting at the ending of the dinner service. We would utilize the bar entrance for those who are only interested in the music and bar offerings. We want to offer our regulars a place to come on a Friday and Saturday night for dinner and music after.
What compliments do you hear most often from your customers? 
Oh man, people are loving everything; the food the service and the new look. The most compliments surround the modern decor and the updated menu items. The color palette is somewhat lighter than before and lends itself nicely to the entire venue. For the most part, we have maintained the most popular dishes from the old menu and offered a lighter version than before, plus there are several new exciting offerings on the menu.
When customers are having an enjoyable time at your business what are they doing?
I believe it is the whole package, the room, the bartenders, the quality product and variety we offer. We invested heavily in staffing seeking out some of Jacksonville's best bar staff, and are were particular who we chose. Each one of our team brings a unique talent to the program making a positive experience for the patrons.
What is your business night of the week? 
It can be a toss-up between Friday or Saturday, but I'll go with Friday. We have a lively, happy hour crowd after work, and it rolls into dinner service and perhaps a nightcap after.
What does your staff enjoy the most about working here? 
What I think it is the reputation the restaurant has maintained since opening. They feel that are a part of something, especially after getting the space opened after the flood. Possibly even more than that is being a part of the culture and what it has to offer Jacksonville. We strive to be in the best of the best Jacksonville has to offer.
What do you want more people to know about your business? 
I think I would like them to know that we are back, the same restaurant with a new "lifeblood". We are back bringing new ideas,  new menu, and staying aware and dedicated to our clients wants and needs.
Recipe: The Brooklyn
2 oz. Bullet Rye
1 oz. Carpano Antice (Sweet Vermouth)
¼  oz. Luxardo Maraschino Liqueur
In a large beaker with ice combine all the above and stir briskly.
Pour over a Gentlemen's Cube
Rub a slice orange peel over the side and rim of the glass to coat with the aromatics, dress drink with orange peel.