One of my local haunts  Empire City Gastropub close to home, a regular crowd and well worth a visit.  I spoke with mixologist Amanda Reos to get the scoop and a recipe from the new summer drink menu.

What is unique about your bar area?
The fact we are making craft cocktails, from ingredients that are fresh and have a very creative element, my collogue Coco Lopez designed the menu, which brings in flavors that compliment the weather here in Florida; refreshing, botanical cocktails. Then we have the very spirit-forward cocktails; I believe we are bringing the cocktails that are found downtown or Riverside to this side of town.
When is Happy Hour?
Happy hour here is all day, no it starts at 4 and then we have different happy hours throughout the week all day.
What kind of weekly drink specials do you offer?
Each day has a unique drink; an example is Moscow Mule Monday, so every day is a different drink special.
Tell us about your bestselling drink.  
The Jax Mule made with Carve Vodka and Ginger Beer
Do you serve any local liquors or brews?  
All beers on tap are all made in Florida, plus we carry several Jacksonville brews.  When we tap out, we do our best to bring in new beers. In addition, we serve the local Carve Vodka.
Do you have music or any events?
Yes Friday we offer live jazz, on Saturday at 9:00 we have Karaoke
What compliments do you hear most often from your customers?  
People who try the new cocktails are always complimentary, and often say they are surprised at how good the drink tastes.
When customers are having a great time at your business what are they doing?
Drinking, eating, talking. We have a great bar crowd here with many regulars, that visit three to four times a week. It's a nice vibe here.
Busiest night of the week?  
Friday.
What does your staff enjoy the most about working here?
The owner chimes in his name as we both expected.  They believe in what they are doing and embrace the concept.
What do you want more people to know about your business?
Empire City Gastropub is a fantastic place to be; genuine, well thought out, sincere and real.
Drink Recipe:
 The Ryevolver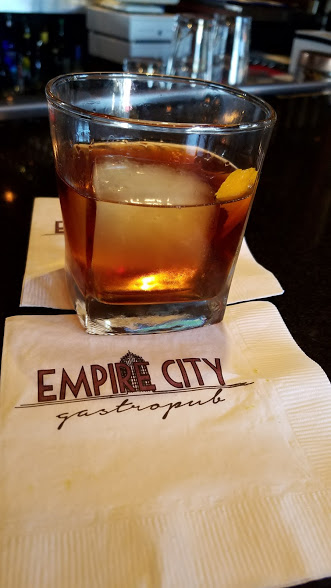 2 oz. Redemption Rye
1/8 oz. vanilla maple infusion
1/2 oz. Averna
This drink should be stirred not shaken and served over a  large ice block with orange zest inside and topped off with barrel aged cherry bitters.