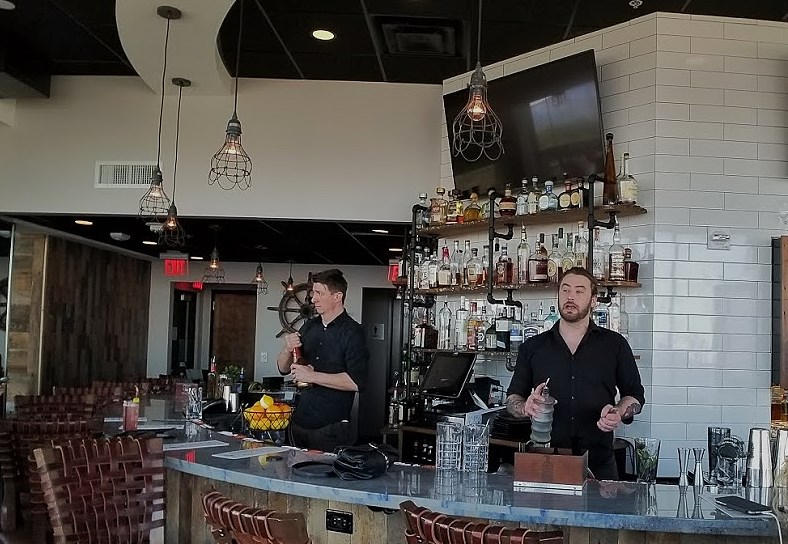 River and Post has two very different bar areas. The main bar, located on the first floor to serve the dining room, is a beautifully appointed space with reclaimed lumber planking covering the bar back. There is an impressive assortment of spirits lining the shelves. The second, is a rooftop bar, and it is all about the scenery! It offers the same specialty drinks and brews as downstairs, and is THE spot one would want to sit, sip on some well-crafted cocktails and take it all in. I did just that as I talked with Michael George, the beverage director, who still tends bar and according to him he loves it too much to
step away from.
What is unique about each of the bar areas?
Well it is quite evident once you go up to the rooftop bar it's all about the ambiance. The view is magnificent, we call it "the experience". When they step off the elevator it's a WOW moment for the first timer. We serve premium craft cocktails and offer unique bar snacks. We are currently working on completing the kitchen on that level to better serve our clients. The first floor bar is more food centered, plus we still have the same spirits but a wider variety. We also have draft brews at the downstairs bar, that we currently do not
have on the roof top due to lack of space.
When is Happy Hour?
From 4 to 6:30 each daily including weekends when we offer $3 Coors Lite and Yuengling, $5 well liquor and $5 Pinot Grigio and Cabernet.
Tell us about your best-selling drink.
We actually have quite a few; the Manifest Destiny is great on
the roof top. It's like a Peach French 76 with hints of Lavender. A beautiful, fun brunchy kind of cocktail. Some of my favorites are the MACHDM, an apple ginger Old Fashioned and is incredible; the Assertive Lady, a nice gin cocktail; and the Bourbon and Berry, a simple but fun drink.
Do you serve any local liquors or brews?
Most definitely! We are very focused on local products. To name a few: Manifest Distillery, Marlin and Barrel (from Fernandina), Carve…plus, we have Wild Buck and Don Suenos Tequila out of Miami. As for the draft brews: Bold City, Intuition, Veterans United, Aardwolf, and we do float others, as available.
Do you have music or other entertainment?
We do have live music on the weekend, Friday night, but we are looking to expand.
When customers are having a really good time
at your business what are they doing?
They are hanging out with their friends, engaging with the bar staff, dancing, watching us do our thing behind the bar. We do our best to keep the ambiance fun.
What does your staff enjoy the most about
working here?
They especially enjoy the pace of the upstairs bar; they really believe in what we are doing.
What do you want more people to know about
your business?
How we strive to use the freshest ingredients available each day, we believe in the system and in each other; we truly have become a family. We want to make each customer want to return to enjoy all we have to offer.
Recipe:  Micamy
In a beaker place, a few chopped up apples, ½ oz. Turbinado sugar, 2 dashes of black walnut bitters, coupled with  3 dashes of Angostura bitters  Muddle all the ingredients, with a few good presses.  Add the following:
 2 oz. Lot 40 Canadian Rye Whisky
¾ oz. Dry Sack Sherry
½ oz.  Domaine Canton Ginger Liqueur
Stir gingerly using long spoon pour into a highball glass with a large round or square ice cube. Garnish with thinly sliced fanned apples.