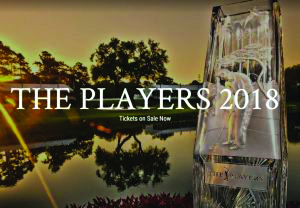 This May, as Spring comes into full bloom, the greatest golfers in the world will meet in Sawgrass, Florida to compete for one of the most prestigious titles on the PGA tour. Since the competition began in 1974, the Players Championship has challenged PGA golfers to deliver their absolute A game on one of the most iconic, stunningly beautiful and spectator-friendly golf courses ever designed. New renovations to the course will make this year even better for competitors and spectators alike. The newly rebuilt and resurfaced greens ensure there is an adequate surface for competitors to show off their short game. A new lake has also been added between the 6th and 7th holes to create a better aesthetic for the TV audience.
The competition will bring the top golfers in the world to Sawgrass. Rory McIlroy, Hideki Matsuyama, and Dustin Johnson to name a few. These three golfers have over 36 PGA tour wins combined and they're all aiming to secure the Waterford Crystal trophy. Matsuyama is looking to make history this year. If he can pull off a win he will become the first Japanese player to ever win the Players championship. Matsuyama has finished no worse than 23rd in his four previous appearances at the players, so we like his chances…though of course, Ricky Fowler is a favorite to win again…and if Tiger plays….
Regardless of who takes home the title, The Players Championship is guaranteed to be a great experience for those attending. Country music star Luke Combs will perform for TPC attendees on May 8th as part of The Players Military Appreciation Day Ceremony. Combs will perform at 6:00 pm on the 17th hole of The Players Stadium Course immediately following the Military Appreciation Ceremony at 5:30 pm. Combs joins an impressive list of past TPC performers which includes Tim McGraw, Big & Rich, and Toby Keith.
In addition to the Military Appreciation Ceremony The Players Championship is offering free tickets to active-duty military and discounted tickets to all military veterans. Everyone else can purchase one of many ticket packages ranging from $20 for the least expensive day pass to $239 for all week access. The Players Championship Stadium also has ticket options that include access to three exclusive lounge areas. The Turn, The Greenside Lounge, and The Hillside Suite offer a more luxurious experience in climate-controlled facilities with food and drink service.
TPC is hosting a "Birdies for Charity" program which allows patrons to make a donation (minimum $20) for a chance guess of the total number of birdies that will be made by the field during the tournament. Guess the right number and you'll win $10,000. Last year's winner, Gerald Bettman correctly guessed there would be 1,469 birdies in TPC 2017 and won $5,000. Bettman then donated his winnings to the charity he supports, River Garden.
The Players Championship is sure to be a fun time for all in attendance! With multiple ticket options available, TPC is affordable entertainment for almost any budget. For those who have never been to TPC stadium, this year is a great opportunity to see the course World Golf Hall of Famer Ben Crenshaw once described as "… star wars golf, designed by Darth Vader."