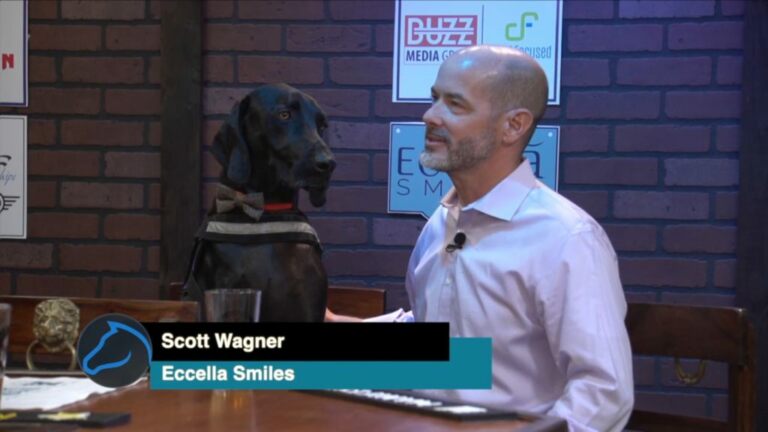 Welcome to "The Horse's Mouth" with Tom McManus, a cool, unique talk show where Tom's guests sidle up to his bar to discuss sports, business and life. No gossip, no hearsay, no BS—just the straight-up truth, right from the source.
Tom's longtime love of bartending has come full circle since his days as a linebacker on the inaugural Jacksonville Jaguars football team—slinging drinks and talking shop with everyone from high-profile sports figures and entertainers to business leaders, journalists and community leaders.
He and his guests trade insight and anecdotes, explore day-to-day topics and tackle the hard subjects, all with equal measures of energy, honesty and laughter. Get the skinny on the real people behind the headlines, straight from the horse's mouth.
In this episode of Up Close and Personal, Tom talks to Scott Wagner, of Eccella Smiles, and his good boy Shadow. Dr. Wagner's passion for the ever-changing field of dentistry motivates him to take over 100 hours of continued education each year. He's had the pleasure of studying with some of the world's leading cosmetic and restorative dentists, including Peter Dawson, Frank Spear, and John Kois. In 2002, Dr. Wagner committed himself to the curriculum at the Las Vegas Institute for Advanced Dental Studies. LVI is internationally recognized as the premier post-graduate center for the study of advanced cosmetic, restorative, and neuromuscular techniques. With the guidance of some of the greatest minds in dentistry today (Bill Dickerson, Norm Thomas, Sam Kherani, Clayton Chan, Mike Miyasaki, Ron Jackson, Robert Jankelson, and Heidi Dickerson), Dr. Wagner has learned state-of-the-art techniques in a wide range of dental disciplines.