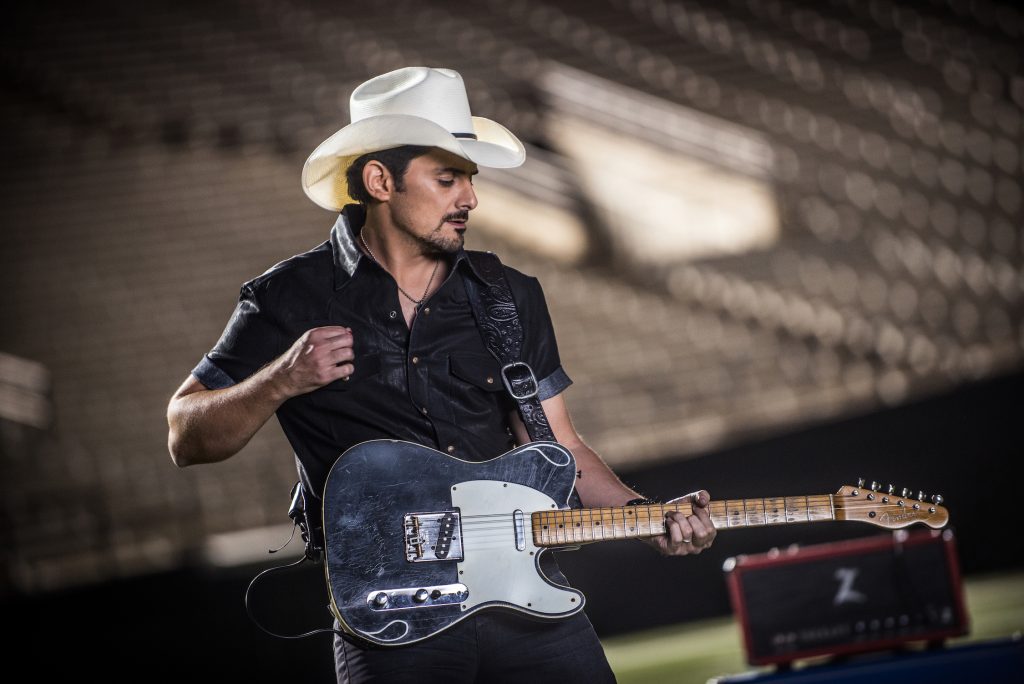 The St. Augustine Amphitheatre welcomes country music superstar Brad Paisley and his "2018 Weekend Warrior World Tour" featuring special guest Chase Bryant on Saturday, March 10, 2018. Tickets for Brad Paisley featuring special guest Chase Bryant will go on sale Friday, December 8 at 10 a.m.
Country music superstar Brad Paisley has announced the continuation of his highly successful "Weekend Warrior World Tour" with dates added in 2018. The 27-date tour will kick off on January 25 in Los Angeles at the Staples Center and includes a stop at the St. Augustine Amphitheatre on Saturday, March 10. Special guest will be RED BOW Records hit-maker Chase Bryant.
Brad Paisley is a consummate singer, songwriter, guitarist and entertainer whose talents have earned him numerous awards, including three GRAMMYs, two American Music Awards, 14 Academy of Country Music Awards and 14 Country Music Association Awards (including Entertainer of the Year), among many others. He has been a proud member of the Grand Ole Opry since 2001. Paisley has written 21 of his 24 #1 hits including his most recent smash, "Today." The song resonated with fans around the globe with the music video garnering over 43 million views, so far. "Heaven South" is his current single from his 11th studio album, Love and War, which was released April 21. It is his 9th consecutive studio album to debut #1 on Billboard's Top Country Albums chart. On April 28 Love and War was released as country music's first ever visual album for a limited time exclusively on Apple Music and now is available on VEVO. Paisley has also contributed two instrumental tracks to the Disney-Pixar movie "Cars 3," which hit theaters on June 16. He also has a song, "Stubborn Angels," in the movie "Same Kind of Different as Me," in theaters now. Paisley has partnered with Sarah Cannon, the Cancer Institute of HCA Healthcare, and Sony Music Nashville, by launching 2017 Band Against Cancer. The campaign will spread the word of community-based treatment, options and support. Sarah Cannon has adopted Paisley's #1 hit "Today" as the campaign's 2017 theme song. Paisley has partnered with Boot Barn and developed an exclusive line of jeans, hats, T- shirts, jewelry, belts and woven shirts called Moonshine Spirit by Brad Paisley. Connect with Brad at http://www.BradPaisley.com, http://www.Facebook.com/BradPaisley, on Twitter @BradPaisley, on Instagram @Brad Paisley, and YouTube at
One of the most celebrated new artists in today's country music landscape, 24-year-old Chase Bryant was raised in Orange Grove, TX (pop. 1,200). Bryant's grandfather played piano for Roy Orbison and Waylon Jennings. His uncles co-founded the group Ricochet. Conway, Merle, Petty, Vince, Bob Wills, Steve Wariner, Bryan Adams and more were early influences as were records by Keith Urban, Sarah Buxton and Jedd Hughes. Bryant's second consecutive hit "Little Bit of You" rose to #3 on the country radio charts. His guitar- wielding Top 10 debut single "Take It On Back" spent 15 consecutive weeks on the CMT Hot 20 Countdown, seven weeks on the GAC Top 20 Country Countdown, and was a Top 20 Most Watched Video on VEVO TV Nashville. Internationally, the single was a Top 20 hit in Canada and earned the #1 spot on Australia's CMC Countdown. Bryant's new high-energy single "Hell If I Know" is available
Tickets for the Brad Paisley "2018 Weekend Warrior World Tour" with special guest Chase Bryant will go on sale Friday, December 8 at 10am at the St. Augustine Amphitheatre and Ponte Vedra Concert Hall Box Offices. The Amphitheatre Box Office will host a Brad Paisley On Sale Party featuring complimentary coffee from Old City Brew and concert posters starting at 8:30am on Friday, December 8. Save on fees by purchasing tickets at the Box Office and have first pick when tickets go on sale at 10 a.m. Tickets will also be available at ticketmaster.com, all authorized TicketMaster outlets or by phone at 800-745-3000.