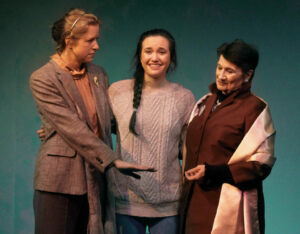 The Lee Blessing play, Eleemosynary, is in production at the All Beaches Experimental Theatre through March 31. While you may not know the meaning of the word in its title or have heard of the play, don't miss seeing this powerful and moving show.
The definition of eleemosynary is relating to or dependent on charity; charitable, and is a central theme in the play. The story follows the complicated relationships of three generations of highly intelligent women in the Westbrook family: a young girl, her mother, and her grandmother.
The eldest character is Dorothea, a mature woman who has chosen to be eccentric. Her grown daughter is Artemis, who works as a biochemist and possesses a remarkable memory. Artie's equally brilliant daughter, Echo, has been abandoned by her mother and raised by Dorothea. As the story unfolds, Echo, who has a love of words, is a finalist in a spelling bee competition.
ABET's production is expertly directed by Christopher P. Farrell. The language is rich and the story unfolds beautifully during the one-act play, clearly releasing its messages about love. While there are some powerful scenes in this show, there are many humorous moments, too.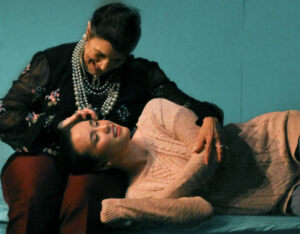 Farrell assembled an excellent cast and each member is believable in her role. Holly Gutshall is outstanding as Dorothea. Along with her character's dominance and eccentricity, Gutshall brings kindness and compassion to the role. Dorothea's grown daughter, Artemis, is skillfully portrayed by Karen Konzen, who subtly reveals her damaged character's frustration and fear. Brynne Tolentino, a sophomore at Douglas Anderson School of the Arts, presents a remarkable performance as Echo, demonstrating the joy of a young child and the conviction of a young adult wise beyond her years.
The creative team is equally brilliant. Amanda Jackson served as assistant director, stage manager and light and sound operator. In addition to directing, Farrell is the scenic designer with Meganne McCawley Johnson as the scenic artist. Bryan Frank's lighting design complemented the action on stage. Farrell and Frank provide the sound design.
Performances continue March 22, 23, 24, 29, 30, and 31. Curtain is 8 p.m. Friday and Saturday, and 2 p.m. on Sunday. Tickets $24 adults. Students 18 and under, $12 in advance, $15 at the door.
For reservations, go to http://www.abettheatre.com or call (904) 249-7177. ABET is located at 544 Atlantic Blvd. in Neptune Beach.
Photography by Caryl Butterley