Blood, gore and so much more. Pontypool is in production at Players by the Sea. The psychological thriller is showing nightly through Nov. 3.
Written by Tony Burgess, Pontypool tells the story of a massive storm and a virus that causes residents to develop strange speech patterns and commit horrific acts of violence. Players' production is directed by Stephanie Natale Frus, who helped to create a different kind of theater experience that's thrilling and full of surprises.
The author allowed Players to change the play's location from Canada, where the town was experiencing a massive snowstorm, to a seaside community in Jacksonville with a hurricane approaching. Pontypool was adapted for this production by Kelby Siddons and the local references add a unique element to the story.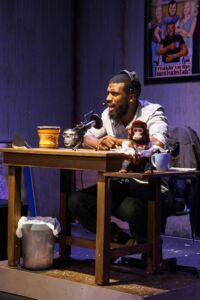 As the drama (or chaos) unfolds, radio DJ Grant Mazzy (Terrence Scott) and a small staff are trapped inside the radio station, desperately try to warn listeners about the virus and its unlikely mode of transmission. The cast, which also features Amanda Jackson, Bryan Martins, Deena Davis, Austin Kelley, Kevin Turner and Rich Pintello, deliver engaging and physically demanding performances.
The production includes some special effects, including a water splash zone and gore, adding to the experience. Kudos to the creative team which includes stage manager Mae Davis, production manager and lighting designer Jereme Raickett, scenic designer Bryce Cofield, costume designer Mattie Wissing, sound designer Nate Cimmino, and scenic artist Katie Dawson. Additional credits include special effects by Alex Sawyer, properties by Claire Cimino, and John Sabino served as stunt coordinator.
The work of gallery artist Drew Edward Hunter is featured in the Grune Family Gallery. The exhibit, Verba, is inspired by 12 of the words heard in Players' production of Pontypool. Hunter is a designer for The Sally Corporation, which worked with Players to help create an experience that draws from dark ride concepts.
The show runs just over an hour without an intermission. Pontypool has a non-traditional production schedule. Performances continue Oct. 31, Nov. 1, 2, 3.
General admission is $28, $25 for seniors, students and military. The Thursday night performance is a Student Night, where students can receive half price tickets with a valid student I.D. For tickets, visit playersbythesea.org or call 904.249.0289.