The super soul musical, The Wiz, is in production at Players by the Sea through Oct. 12. This spectacular and energetic show is enjoyable family entertainment. Don't miss it.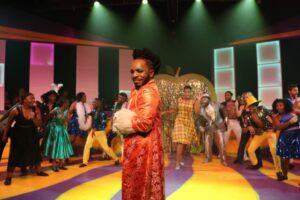 A funky, gospel-inspired take on a timeless classic, The Wiz is the urban retelling of the children's novel, The Wonderful Wizard of Oz, in the context of modern African-American culture. The musical follows Dorothy on her journey to the Emerald City as she meets Scarecrow, Tinman and Lion, who help her on her journey to meet the Wiz and find her way home.
Players' production features a cast and crew of 35 talented actors, singers and dancers, and a 16-piece live orchestra. Under the gifted direction of Players' Production Manager Jereme Raickett, The Wiz delivers spirited vocals, lively dancing and an energetic pace as the team brings the story about the significance and beauty of home to life with heart and soul.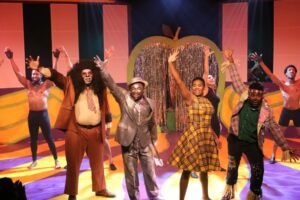 The cast features performers of all ages. The role of Dorothy is skillfully played by Douglas Anderson School of the Arts freshman Samantha Nelson. Jacksonville native Sherrod Brown, who has numerous national performing credits, portrays the title role with finesse. As Dorothy's comrades, J'Quan Jarrell (Scarecrow), Juquan Vickers (Tinman) and Tyvin McSwain (Lion) are a joy to watch with their endearing and lively performances. The trio of witches, Tota Li (Glinda), Michael Clifton-Plummer (Evillene) and Zoe Bell (Addaperle), and Aunt Em (Jadene King) and Uncle Henry (James Webb) move the story along with humor and memorable ballads.
Players' production features a dynamic orchestra and background Wiz singers on stage to showcase its funky, gospel and soulful score. Andrew Phoenix is the music director and Tina Wilson is the vocal director. The choreography by DeWitt Copper assisted by Arielle Bryant is inspiring. The costumes by Keisha Burr, Sherrod Brown and Beverly McIntosh are colorful and rich. There are numerous costume changes throughout the show. Ashley Harper keeps everything in control as the stage manager. The dazzling set features the work of scenic designer Ian Black and lighting designer Daniel Dungan. Stephen D'Angelo is the props manager. Kristopher Jackson, Henny Stewart and Delvina Wynn are the producers.
Tickets for the first and second weekend sold out in advance. General Admission tickets are $28, $25 for students, seniors and military. Performances are offered September 27, 28, 29, and October 3, 4, 5, 6, 10, 11, and 12. Curtain is at 8 p.m. Thursday, Friday and Saturday, and 2 p.m. on Sunday. Thursday nights are Student Nights. Students may purchase a half-price ticket for $14 with a valid student ID.
During the run of The Wiz, Players is offering a special VIP experience on Friday and Saturday nights. The $50 price includes a reserved seat, special pre-show access to a private bar with soul-food appetizers and dessert provided by Lyric Soul Café and cocktails by Manifest Distillery, and a post-show meet and greet and photo opportunity with performers.
Visit http://www.playersbythesea.org/the-wiz for more information and to buy tickets, or call 904.249.0289.