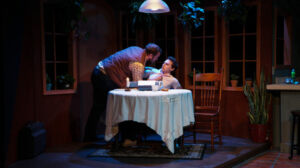 Sam Shepard's True West is in production at Players by the Sea through March 31. The drama is intense, thought provoking and shouldn't be missed.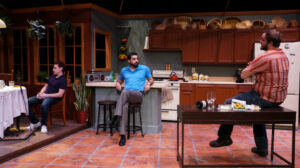 The story centers on two brothers who are different in every way. Austin, a successful screenwriter, has come to stay at this mother's house while she is on vacation. His estranged older brother, Lee, a drifter, shows up unexpectedly and tension between the two escalates as they compete for the attention of a Hollywood producer, each trying to sell him a story for a new motion picture. They find themselves forced to collaborate in the creation of a script that will either make or break both of their lives.
The production is under the expert direction of Brian Niece, who brought this emotional story to life with meticulous detail. He assembled a talented cast, and with their support, created a genuinely terrifying show that erupts with action that feels all-too-real. From beginning to end, True West will have you sitting on the edge of your seat.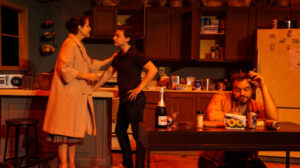 The performances by the powerhouse cast are passionate, authentic and stirring. Josh Andrews is captivating Austin, who is challenged by his intimidating older brother and makes a dubious transformation during the show. Tyler Hammond's performance as Lee is also mesmerizing as the brash, beer-drinking drifter with a violent temper. He is a thief and a terror who knows how to manipulate to get his way. Tyrone Thornhill as the congenial film producer, Saul Kimmer, and Brooklyn Murphy as the bothers' emotionally damaged Mom are believable and provide essential support in their roles.
The creative team is equally as talented. Under the leadership of production manager Jereme Raickett and scenic designer Bradley Akers, Players' intimate Studio Stage has been transformed into the Mom's home featuring a full kitchen with running water and electricity. The home is beautiful and is destroyed during the course of the show. The lighting design by Austin Kelm creates a realistic setting and complements the action on stage. Gayle Featheringill's costume design adds to the authenticity of the characters. Kristin Livingston is the stage manager.
Performances continue March 21, 22, 23, 24, 28, 29, 30, 31. Tickets are $28, $25 seniors, students and military. Thursday night performances are special Student Nights, offering half-price tickets to students with a valid student I.D. For tickets, visit playersbythesea.org or call 904.249.0289.
Photography by Bradley Akers