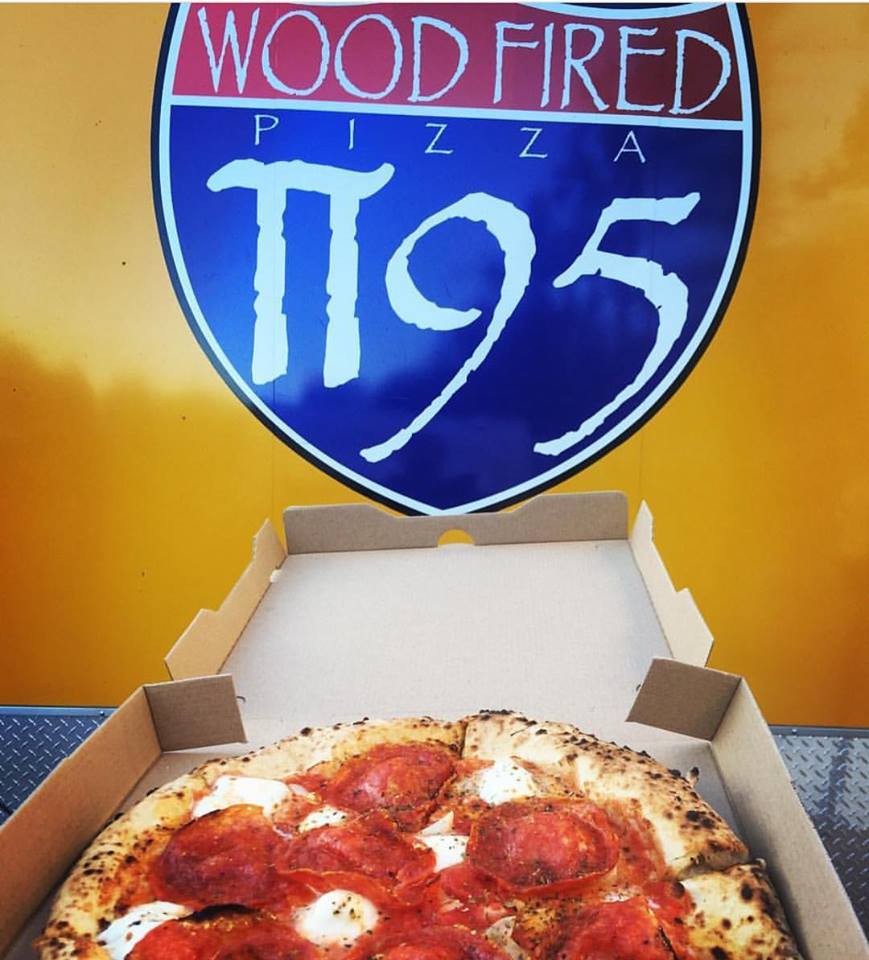 By Anna Eatz Jax
There are only two places for me when I want a pizza fix, and Pie 95 is on that list.  Chef/Owner Evan Eriksen has hit Jacksonville like a storm.  This culinary school grad, former Chef at a 3 Star Micheline restaurant in Manhattan gave it up to follow a dream, and we are now following him around town.
In your words, how would you explain a food truck to someone who has never experienced this type of dining before?
I would expect different food; it depends on what truck you go to and what locations.  Many of the new trucks are serving foods not found in restaurants; the chefs can be more creative and put their spin on the menu items, instead of making someone else's food. You can also expect a one on one personal experience,  walking up to a food truck you can see the people making your food, they take your order, you can speak with them, and they are usually the owner. The way I feel about food trucks it's the American dream, not a large corporate-funded organization that is creating meals produced in mass quantities. Going into the communities or neighborhoods taking care of the locals is part of the dream as well.  Our local customers are what make or break us.
What is your professional experience before beginning your food truck?
 Before my food truck life, I was Executive Sous Chef at St. Regis in San Francisco for about a year and a half.
 Why did you choose the mobility of a food truck rather than establishing a brick-and-mortar restaurant?
 Brick and mortar is the ultimate dream if that goal changes in time we will see what happens.  It was the practicality at the time what am I able to do without having partners, investors, without having anyone in Pie 95. I realized it was feasible; one man can do this.  Starting out moving to a new city across the country I had to streamline everything I was doing.   I had to get everything set up before moving here; while I was living in California, I had the trailer designed and built. I reached out to all my purveyor touched base with all the food truck organizations then moved to Jacksonville.
 What is the best part of running this business and what is your biggest challenge?
The best part is the feedback from the customers that are the most rewarding part. It is great to have beautiful days as far as business revenue, but the most amazing experience is the feedback when someone looks at you, and they are eating your food and looking at you with complete satisfaction.  I had a customer tell me "this is magical" I almost teared up.
How are the challenges of a food truck different than the challenges of a traditional sit-down restaurant?
 Every day in a food truck is a challenge.  From showing up at a location and having all the ingredients on the floor to having your wood not cured enough and the fire will not start, the wind blowing into the pipes and you can't keep the fire burning, brick and mortar restaurants do not face these challenges. Trying to find your locations, your customers finding the place and of course the weather.  And the biggest problem is the space you have to work.
Which menu items are the biggest sellers at your truck?
The pepperoni pizza hands down the best seller.  We slice the meat fresh every day and use the highest quality meat available.
What's something off the wall that you would love to put on your menus but aunt aren't sure people would go for it?
I would love to have desserts, like a Pate a Choux ice cream sandwich filled with gelato.
What is the best reaction someone has had to your food?
 I was at an apartment complex a woman came and ordered a pepperoni pizza, three days later she drove thirty miles away to St. Augustine and ordered three pepperoni pizzas.  She continued to come to my location for the next three weeks. That was incredible.
What is the best thing you've ever eaten from a food truck? Which truck was it and where?
 I can't exactly remember what it was but it was in California, they had excellent curry burritos.  Here is Jacksonville Fusion Food Truck has fantastic food, Happy Grilled Cheese Fancy Schmantzy is one of the best.