One of Jacksonville's better known favorite restaurants recently preview the new summer dessert menu, and this blogger was honored to be part of the tasting. If you know Restaurant Orsay, it's a given that what you're going to experience will be top tier, as it was for us on a lazy Saturday afternoon.
We started out with two new brunch choices, the Brunch Pastry Board and the Petit Four Tower. Not a person ordinarily interested in baked goods I was unable to keep my hands off. The pastry board was a combo of a Gruyere scone, lavender raisin cinnamon bun, chocolate croissant, orange poppy cruller served with salted honey butter. The picture tells the story.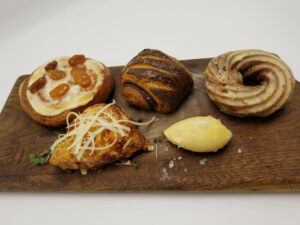 Brunch Pastry Board
The Petite Four Tower offered up a striking array of color and choices that included, French Macarons, Pavlova, Opera Cake, Profiterole.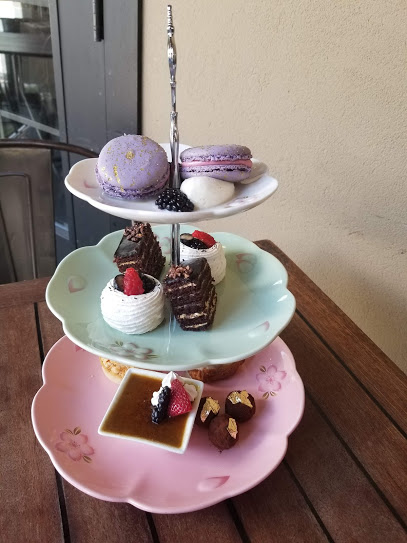 Petit FourTower
Let me share a few of the other most exciting desserts provided to us by pastry Chef extraordinaire Rebecca Reid
Chocolate Mousse Dome, with 65% dark chocolate is guaranteed to send a chocolate lover over the top; the genoise cake is soaked in Grand Marnier and finished off with cocoa gelee, hazelnuts, supreme orange slices and mint leaves.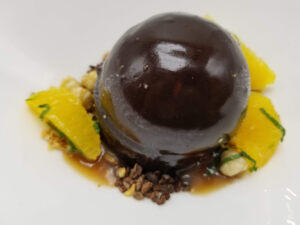 Chocolate Mousse Dome
The Crepe Cake Rosette a newly imagined way to have your Crepes and eat them too. These crepes have been cut into strips that have been filled with a whipped cream cheese filling and rolled to create the rosette shape. Accompanied with a quenelle of house-made peach ice cream, along with the toasted butter pecans that provide a crunch and textural contrast to the ice cream.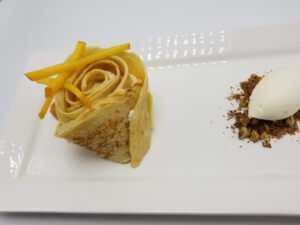 Crepe Rosette
The Pistachio Semifreddo was my favorite of the day. The pistachio parfait similar to ice cream, frozen but not churned; is light and airy. What sets this dessert apart is the use of Florentine cookies; unique looking and by no means your run of the mill cookie; as they bake they spread to make a delicate lace pattern.  The dessert dressed in salted caramel, and frozen raspberry, looking like a carved gemstone, with white chocolate.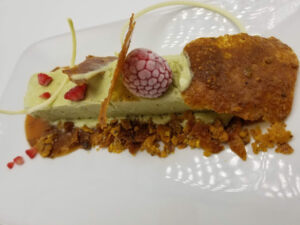 Pistachio Semifreddo
The last dessert to share, another reimagined favorite; Self Saucing Bread Pudding. This dessert is your grandma's pudding updated. A French Pantry baguette has been soaked in nutmeg spiced custard and lemon curd. Since the pudding is served warm, the custard oozes out like molten lava and mixes with the honey, lavender and poached raisin the bread is served on, a dollop of buttermilk ice cream completes the dish.
As I stated early, I am not much of a dessert person, but I certainly changed my mind for at least two of these today. Restaurant Orsay has one of the primer brunches in town; let me encourage you to gather your besties go heavy on the new sweets, life is uncertain.