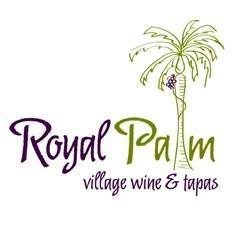 By Anna Eatz Jax
Every Chef I interview has one thing in common, the passion for bringing the best food possible for those who frequent their restaurants.  Chef Chris Roberts currently in charge at  Royal Palm Village and Tapas is now added to that list; he sat down with me today for a brief interview. 
Tell us a little bit about yourself?
 I grew up in Silver City New Mexico, and my family still live there.
What brought you to Jacksonville?
 I was stationed at Mayport while I was in the Navy, I moved back with friends about twenty-five years ago.
How about your culinary training? Where did you train to cook?
 I did not go to culinary school but had the opportunity to work at Marker 32 for fifteen years.  I started working on the line, worked in all stations of the kitchen as well as the baking area. I certainly was given all the tools needed to be successful.
How long have you been cooking professionally?
 About twenty-five years combined.
What inspires you? What is your philosophy when it comes to food and your restaurant?
All the different foods we have available to us. The restaurant has connections with several local farms for all our supplies. Seeing how the food changes during the year and what is available for us to cook with; then just having fun putting recipes together, playing with the food.
How would you explain your style of cooking?
Me personally I am old Southern Bar BQ and New Mexican cuisine, a little bit of both.
Do you have a signature dish or a favorite dish you enjoy cooking?
For the restaurant, I would have to say the most favorite dish is the Jerk Chicken Confit with Collard Greens.  People love it.  At home, I grill quite a bit or throw together some New Mexico inspired Enchiladas.
How do you come up with ideas for the dishes in your restaurant?
Again it depends on what is available; much of the interpretation is driven by what is in the field. Spring and summer fruits and vegetables are coming in now and using our base of knowledge we create our dishes.  Certainly, it is a collaborative effort; we bounce ideas back and forth. Plus I read magazines or look at different websites. Cooking is more of an addiction than anything. It's food all day every day. We are not reinventing the wheel, but we are keeping it turning.
What do you most love about your job?
We are just one big happy family here, the way we all interact with each other. Many of us have been through the grind of big kitchens where you do five hundred covers a night busy, busy all the time. Here we have time to ourselves to have and enjoy free time; it's just fun to come to work with this great team.
If you weren't cooking, what would you do for a living?
Oh, I don't know, probably out rescuing Pit Bulls somewhere.
Death Row Meal?
Probably moms Enchiladas