Dahlia's Pour House celebrates its five-year anniversary the week of July 10, with brewery spotlights, special tappings and one-off beer selections each day. In addition to the 85 taps, the nightlife spot offers a wide selection of wine.
During the anniversary week, look for these events:
Monday: All-Day Happy Hour, with reduced prices on most beer ($4), starting at 4pm. (General happy hour is from 4-7pm Monday-Friday); Tuesday: Wicked Barley Brewing Spotlight, 5pm; Wednesday: Bold City Brewery Spotlight, 5pm; Thursday: Cigar City Brewing Spotlight, 5pm; Friday: Kona Brewing and Coppertail Brewing Spotlights, 5pm; also featuring luau with Kona Brewing, hula hoop and limbo contests; Saturday: MIA Beer Co. Spotlight, complimentary food, toast at 4pm.
In case you need more info about Dahlia's, re-visit this Q&A interview with Owner Andrea Dahlia:
How many beers do you have on tap?
We have 85 drafts and around 30 bottles/cans.  It's mostly craft beer, and we carry almost every style!  We also offer several craft sodas on tap.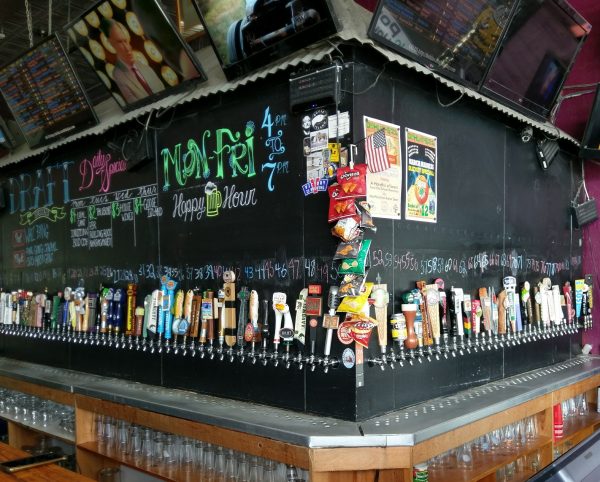 How many different types of wine do you offer?
We have 18 Self Service wines that rotate and 4 house wines.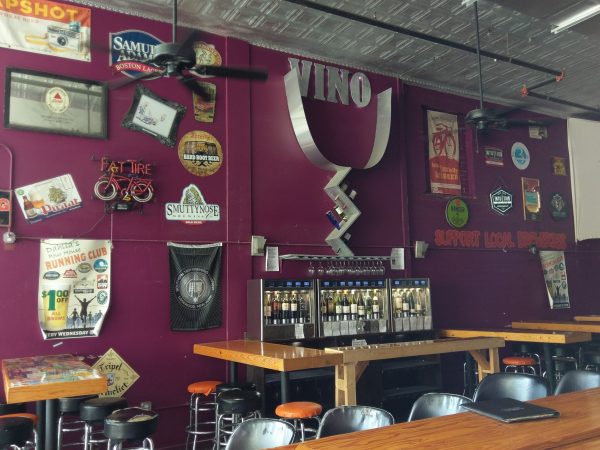 What kind of Happy Hour specials do you have?
During Mon-Fri 4-7pm, most beers are only $4!! Others are $1.00 off.
When did you open Dahlia's, and what was in the building before you made it into a bar?
Dahlia's opened in July 2012 (almost 5 years!), and it was many things before that; the building is 100 years old. Right before Dahlia's, the building was a print shop. The building was completely remodeled and brought back to its core beauty!
What kinds of activities do you offer customers?
We often have beer events, tastings and pairings, which are listed on Facebook. We have Trivia on Thursday nights and Ping Pong tournaments on Sunday nights. The bar has 2 pool tables, shuffle board, ping pong, foosball and darts.  We recently added the foosball and darts into our back room.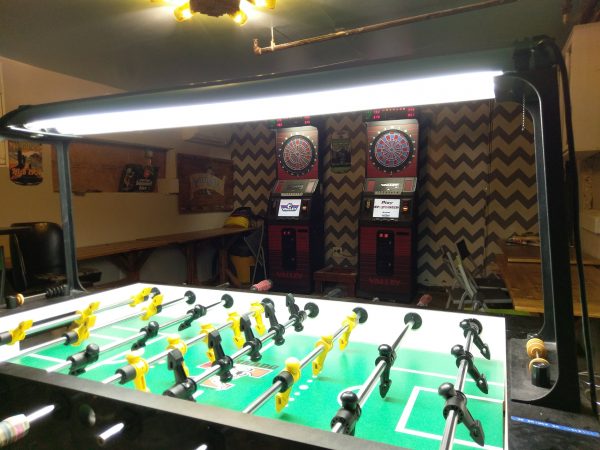 Who do you see more of at your bar: craft beer geeks or those new to craft beer?
We have a good mix of clientele! Our age range varies greatly, as does what people drink and enjoy.
How did you get started in craft beer?
I originally started working in a restaurant before Dahlia's and saw how craft beer was starting to take off, but struggling. I found that many people didn't think they liked craft beer, but just didn't have the right exposure to it. I slowly started adding more taps to the restaurant as I took part ownership.  From there, I opened up Dahlia's on my own and really embraced the craft beer scene. Surprisingly, when we opened it was hard to get a decent rotating beer selection! Now it's not an issue.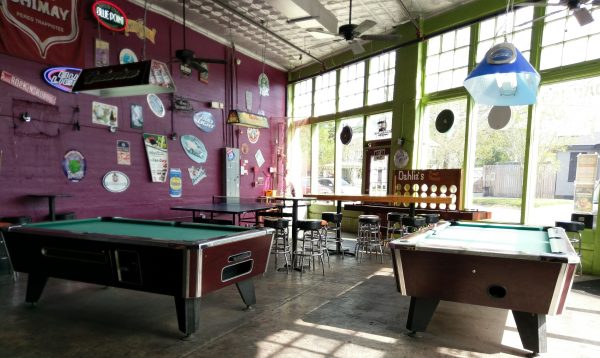 What would you like customers to tell their friends about Dahlia's?
Dahlia's is a great local, low key neighborhood bar.  Everyone is also super friendly and it is a great place to go and chill with friends, make new friends and enjoy a wide range of craft beers and wines. The bartenders are knowledgeable in craft beer, and we offer samples of beer to help beginners find a style they like, or let regular craft beer drinkers expand their horizons!
Congratulations to Dahlia's and crew!
Dahlia's Pour House
2695 Post St., Jacksonville (Riverside)
Business hours: Mon-Fri: 4pm-2am; Sat-Sun: noon-2am
Cheers,
Linda Johnson, Certified Cicerone®
Covering Florida's beer scene, and locally in North Florida
(all photos by Linda Johnson)