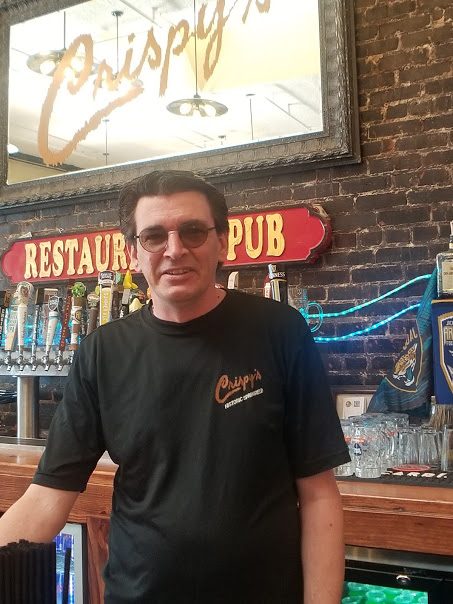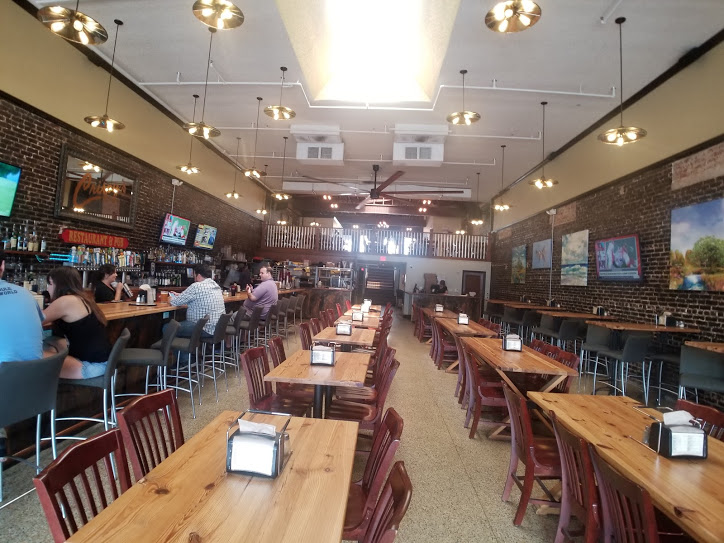 There are times when I find myself in a bar that brings back memories of a time when I had a hangout place; now that I call Jacksonville home I have discovered that place again. Crispy's Springfield Gallery in the Springfield area of Jacksonville has been remodeled into a beautiful space, complete with a wooden bar and an upstairs loft for big parties. Always full with neighborhood regulars that welcome all comers and a bartender that, just by looking at him, you know he will listen and keep it all secret. Bartender Calley Sprague took some time to sit down with me to share some insight into his world and life at Crispy's.
How long have you been tending bar?
My first bartending job was in 1995 at Orlando Arena, but to try and put a number on it I would have to say ten years behind the bar.
How many bartending jobs have you had?
Many! In numbers, it is probably in the high teens if I were to count.  I'm one of those people in restaurants that want to learn everything about the business. I have been in jobs where I can bartend, serve and fill in where needed.
What turns you on about bartending?
People interaction, I enjoy the counselor aspect of bartending: getting to know people, hearing about what is going on in their lives.
How do you feel about the term "Mixologist"?
I think it's a new age term for a profession that has been around for over 100 years.
What do you enjoy most about Crispy's?
It's nice to work in a non-corporate atmosphere; to be able to free pour, or over pour and to have an owner who bartended for years and understands that's how you build clientele. He is very supportive of the staff, friendly with all the patrons and works behind the bar from time to time. People come from all over town just because it's his place.
What were you going for when you created the cocktail list? What are your favorites?
Actually we do not have a cocktail list. We're bartenders, we will figure out a cocktail for you, especially for you. When you have been in the business as long as most of us have, it's not difficult to find out what someone likes to drink, it's easy. If you're a vodka drinker give me a flavor and I will make any style of Martini you want.
What are your favorite cocktails to make, and why?
The Martini, actually it was one of the first cocktails I ever made. It was for Arnold Palmer and his wife. The Martini is so versatile; you can do so much with them.  It's basically a bigger shot.
What spirit is the sexiest to you?  Why?
Honestly, it's Tequila. It's the only spirit that not made from a yearly renewed source.  It's a mass-produced spirit. From planting to bottling is a ten to twelve years process; it takes seven to eight years for the agave plant to mature for harvest.
For you what spirit is the most versatile?
Again, I would have to say vodka, just in flavor alone and the drinks that can be made with it.
What do you think sets your drinks apart from the others?
You can come in here and get exactly the drink you want. If you want a splash you're going to get just a splash; our drinks are custom made for each customer. We get to know our people, what they like and we pour accordingly.
If I asked you to make me a cocktail with no limitations, what pops into your head?
Well you stated you like vodka so that it would be a French 76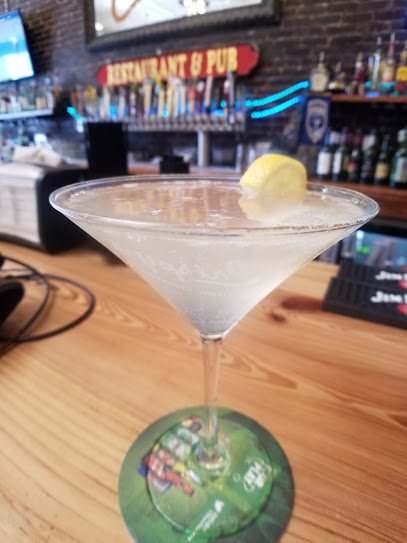 Recipe: French 76
1/2 oz. Vodka
1/2 oz. St Germaine (elderflower liqueur)
Two wedges of squeezed lemon
1/2 oz. to 1/4 oz. simple syrup (depends on sweetness preferred)
Champagne
How to make:
Shake all ingredients with ice and strain into a chilled martini or champagne flute, top with champagne, garnish with lemon twist or wedge.
The after note: Calley hit the mark with this drink; it was everything he promised.
Stop in one night and check it out.  There is often something going on like trivia or some entertainment. And don't forget: every day is Happy Hour day!