Jacksonville, there's another reason to visit local breweries this week: It's American Craft Beer Week!
This marks the 13th year for the annual week-long celebration of craft breweries as defined by the Brewers Association. From breweries and tap rooms to craft beer bars and restaurants to bottle shops, it's a nationwide party to recognize the creativity, passion, and collaboration that represents the craft beer spirit, not to mention the tastes that we love! This week, hoist a pint, snifter, bottle or can of a favorite craft beer, or maybe one you haven't even tried yet, and say "Cheers" to craft beer!  As if beer weren't already fun enough, you can even play "bingo" with the Brewers Association ACBW Bingo Card.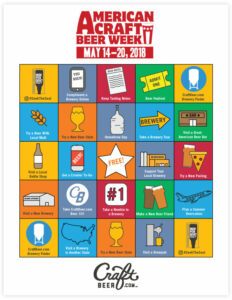 And, if you're badge-hunting on social app Untappd, check in any craft beer during the week for your special 2018 ACBW badge.
Look for local ACBW events at your favorite craft beer spots all around Jax, Jax Beach and St. Augustine, with special tappings, discounts, and more! Be sure to check out the "Tap This" calendar page on brewnymph.com for local ACBW happenings in the 904 area, too.
Cheers!
Linda Johnson, Certified Cicerone®
Linda Johnson is a BUZZ Contributing Writer (beer!) and founder of the beer and travel website, BrewNymph.com, covering all things Florida beer from news to events. She is the first female Level 2 Certified Cicerone® in the Jax area (since 2015), one of seven in the metro area, and the only Level 2-certified independent beer writer in the state.