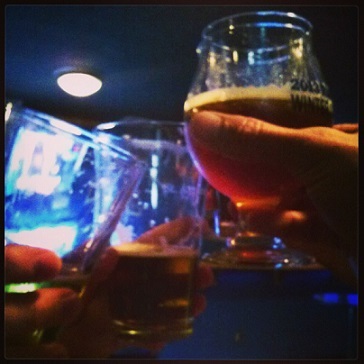 Another weekend is here, just like that! And, it's the first weekend in August … already. In between shopping during the Florida Sales Tax Holiday, stop by one of the local breweries or craft beer bars for an event, pint, or flight. Take a look at what's happening around town, with these highlights:
Friday: Happy International Beer Day! A day to celebrate beer.
Main & Six Brewing, Springfield: Pouring its Silver Sunset Sour with syrup from Cam Lee Crafted. Also, tapping a vanilla version of  WMD Imperial Stout.
Hyperion Brewing, Springfield: Releasing its Arnold Blonde Palmer, from its summer cocktail series menu.
Bruer's Beer Jelly: You may have noticed Bruer's Beer Jelly sampling its beer jellies around town. Yes, jelly made with different beers and flavors. Baste meats or top crackers for a snack. They'll be at Brewz, Atlantic Beach, at 5pm.  There's also a Grateful Dead night at Brewz Atlantic Beach starting at 7pm.
Saturday: Happy Mead Day! Making honeybees proud!
SJ Brewing Co., Yulee: The new brewery on State Road 200 opens its tap room at noon, with guest beers. House beers are still a bit down the line, but it's the first brewery in Yulee.
Southern Swells Brewing, Jax Beach: Double Can Releases and a new glassware release, starting at noon.
Hyperion Brewing, Springfield: New beer release: Irish Red Wedding.
Brewz Atlantic Beach: Hot Dog Eating Contest, 1-4pm. It might not be Fourth of July, but it's hot dogs and buns!
Bacon Fest at Sheraton Jacksonville, Deerwood Park, 4-7pm. All things bacon, including a new bacon beer from Bold City Brewery.
Really Good Beer Stop, Jax Beach: Monthly free Gypset & Pearl Wine Tasting, 4-7pm.
Sunday: Another Sunday Funday!
Wicked Barley Brewing, Jax: August Family Fun Night with Fun 4 First Coast Kids, 2-7pm. Featuring kids' activities in the beer garden.
Brewz N Dawgz, St. Augustine: Round out that weekend with a Beer Mile! That's right, go a quarter mile, drink a beer, repeat. Starts at 6:30pm. Sign up ahead of time.
Look for these events, and more, on brewnymph.com.
Cheers!
Linda Johnson, Certified Cicerone®
Linda Johnson is a BUZZ Contributing Writer (beer!) and founder of the beer and travel website, BrewNymph.com, covering all things Florida beer from news to events. She is the first female Level 2 Certified Cicerone® in the Jax area (since 2015), one of seven in the metro area, and the only Level 2-certified independent beer writer in the state.