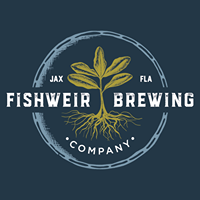 Jacksonville's newest entrant into the area's craft beer market, Fishweir Brewing Company, has announced its Grand Opening Day set for Thursday, November 29.  Co-owners Broc and Stacey Flores will welcome the public to their new brewery and 1500-square foot tap room at 1183 Edgewood Avenue South on Thursday, beginning at 3pm.
SOFT OPENING UPDATE: Please see updated story HERE from http://www.brewnymph.com with new photos and content from the soft opening on November 28! 
The couple made several appearances over the course of the year, including Riverside Craft Beer Festival, Beer:30 San Marco, and Really Good Beer Stop, where craft beer enthusiasts sampled sneak peeks of a number of the new brewery's house beers. Although initially described as a sour-focused brewery, the tastings revealed a variety of styles, such as Extra Special Bitter, Sweet Chocolate Stout, traditional American IPA, Saison, and a Coffee Blonde Ale, in addition to a kettle sour.  The brewery website identifies the initial core beers: Lazy River Pilsner, Bait & Switch Coffee Blonde Ale, Glendale Pale Ale, Big Fishweir IPA, Pucker Factor Sour, and First Block Saison.
Handling the brewing duties are Head Brewer Broc Flores, a homebrewer with 10+ years of brewing experience, and Dan Frye, formerly a brewer in England who also brewed at various breweries across Europe. Stacey Flores takes on the tap room manager role. With its tagline "Rooted in Jax," the brewery derives its name from Fishweir Park (and nearby Fishweir Creek), along with the ancient method of catching fish via a "fishing weir" or fishweir. The brewery offers an annual membership loyalty program, the "Oak Club," which allows patrons to attend monthly meetings including features such as limited beer releases, discussions and educational programs, brewer interactions, and, pre-release samplings.
Following Grand Opening Day on Thursday, November 29, Fishweir Brewing hours are: Wednesday-Thursday, 3-10pm; Friday, 3-11pm; Saturday, noon-11pm; and Sunday, noon-8pm.
Congratulations to Fishweir Brewing!
Cheers,
Linda Johnson, Certified Cicerone®
(adapted from original article on http://www.brewnymph.com; cover photo: Linda Johnson)
Linda Johnson is a BUZZ Contributing Writer (beer!) and founder of the beer and travel website, BrewNymph.com, covering all things Florida beer from news to events. She is the first female Level 2 Certified Cicerone® in the Jax area (since 2015), one of seven in the metro area, and the only Level 2-certified independent beer writer in the state.