New Jacksonville brewery Tabula Rasa Brewing welcomes the public with a Grand Opening on Friday, September 14, at 4pm. Situated along McCoy's Creek in an area known as the "Railyard District," the venue is housed in the former Mixon Art Studios. A large greenspace to the side and rear of the property provides a serene setting in an industrial area.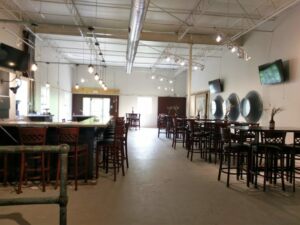 Co-owners Randy, Jackie and Ryan Peterson started planning the brewery in 2015. Dad Randy and son Ryan have 20 years and 10 years, respectively, of homebrewing experience. After visiting a number of properties and signing a lease in late 2017, they began the permitting, licensing and build-out process. Measuring 8500 square feet, the site holds the 10-barrel brewhouse on one side, and a tap room approximately 1700sf in size on the other. There's plenty of room for expansion.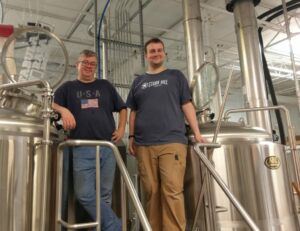 Supporting the brew system are two 10-barrel and two 20-barrel fermenters. The brewers put that brewhouse to work on August 9, when they brewed the first beer, a Cream Ale. Four house beers will be on tap for the Grand Opening on September 14: Cream Ale, Scarlett Ibis IPA, Garcon de Soleil Belgian Ale, and a Tropical Ale. The list will increase to eight beers, as additional rotating beers are added. As far as what types of beers the public can expect at Tabula Rasa Brewing, Ryan simply said "anything and everything." All styles will be brewed, and a Porter and a Scottish Ale are on the way to the taps soon. "We like doing all types of beers, and it's fun to try new things and new flavors," said Ryan. "We'll keep an open mind."
The large, open tap room has an industrial vibe, with artistic and eclectic touches. It features a wraparound bar with a concrete top, and a number of tables and chairs, along with TVs. Beers will generally be poured in pint or short pours (4 oz), with a few exceptions for higher gravity brews. Growlers and Crowlers will be available to take home.
Outside is a large, peaceful greenspace dotted with art pieces. Lawn games will also provide activities to go with beer sipping.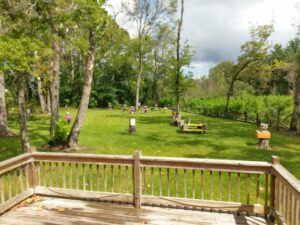 The name derives from the Latin phrase "Tabula Rasa," translated as "blank slate." The logo features a blank Roman tablet, ready to write something new. Along with Randy and Ryan handling the brewhouse duties, Mom Jackie will oversee the operations/ administration and retail side of things. Tap Room Manager Andrew Auster rounds out the managerial crew.
Tabula Rasa Brewing is located at 2385 Corbett St. Following the Grand Opening on Friday, September 14, at 4pm, hours of operation are: Tuesday-Saturday, noon-10pm; Sunday, noon-8pm; closed Monday. The tap room is family-friendly.
Cheers!
Linda Johnson, Certified Cicerone®
Adapted from original article on http://www.brewnymph.com
Photos by Linda Johnson
Additional source: Wikipedia
Linda Johnson is a BUZZ Contributing Writer (beer!) and founder of the beer and travel website, BrewNymph.com, covering all things Florida beer from news to events. She is the first female Level 2 Certified Cicerone® in the Jax area (since 2015), one of seven in the metro area, and the only Level 2-certified independent beer writer in the state.