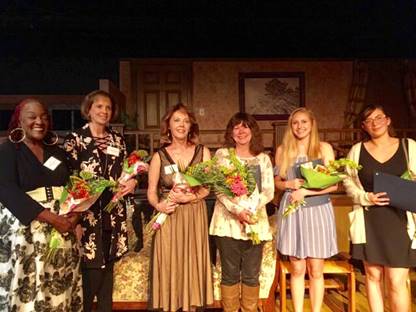 The St. Johns Cultural Council celebrated the 2018 Dr. Gail Pflaster R.O.W.I.T.A. (Recognizing Outstanding Women In The Arts) Awards at their celebration ceremony on Sunday, March 11, 2018 at the Limelight Theatre. The four women honored for their lifetime contributions to the arts in St Johns County are Linda M. Brandt, Deborah Dickey, Carolyn Juliet Fisher, and Laurie Allen Klein.
Linda M. Brandt has spent her life in the arts, mostly as a self-trained artist. She has taught art classes at the St. Johns County Council on Aging, is a board member of the St. Augustine School of the Performing Arts, is a co-founder of Artbreakers, as well as a member of the Ancient City Poets. Her work has been displayed in prestigious venues from Paris to London and New York to Laguna Beach. Her paintings are held in private collections around the world including the portrait of the late President Ronald Reagan along with portraits of past Ohio governor, George Voinovich and several senators. In 2004, Linda underwent brain surgery for a rare and usually deadly tumor. After three years of rehabilitation she returned to painting. Since then, Linda has donated her time, talent, and artwork to fundraisers for numerous local organizations. Linda's recovery and subsequent return to the artworld serves as an encouraging and inspiring story.
Deborah Dickey is a playwright and theatre director who received a Master of Fine Arts in Acting and Directing from the University of Florida. She is a board member of A Classic Theatre where she serves as a producer and director. She has a special interest in Florida themes and her most recent play, Sweet Emmaline: The Musical Journey of Debbie McDade, tells the story of a local artist who achieved fame as a jazz singer.  Another play, Cross Roads: Marjorie Kinnan Rawlings and Norton S. Baskin in Unguarded Moments tells the story of two prominent St. Augustine residents. It premiered in 2012 under her direction during the Romanza Festivale. Deborah has served as co-producer for over 20 local productions for A Classic Theatre. She also works as a dramaturg and director of new play development. Deborah's talent for bringing local stories to the stage entertains audiences while also educating them on the rich artistic history found in   St. Johns County.
Carolyn Juliet Fisher received a Bachelor of Arts in Education from Bethune Cookman University and a Master's Degree in Education from the University of North Florida. She was a talented school teacher in the St. Johns County School District for thirty-five years, receiving Osceola Elementary School's Teacher of the year award in 1998. Her other true passion is singing and she began ministering through song at a very early age. Carolyn has lent her singing talents to many organizations in St. Johns County and can be found singing at churches, weddings, funerals, festivals, schools, birthdays, and other celebrations. Carolyn love of singing finds her spending countless volunteer hours making a difference in her community, church, and family where she generously shares talents. She is often on the program to honor many events in the St. Augustine community, including the 30th Dr. Martin Luther King, Jr. Annual Breakfast, the 2014th Civil Rights celebration at St. Cyprian's Episcopal Church, and during the 2016 memorial service for the civil rights leader Dr. Robert B. Hayling. She sang for ACCORD, (Anniversary to Commemorate the Civil Rights Demonstrations, Inc.) events from 2004 through 2014. By all accounts, Carolyn's singing has enriched the lives of many in St. Johns County.
Laurie Allen Klein is a book illustrator and artist whose work has impacted tourism, environmental causes, and education in St. Johns County. Her creations can be found in the hallways and cafeterias of St. Johns County schools (R. B Hunt, Ketterlinus, Crookshank, and Julington Creek Elementary), in our tourist attractions, (St.Augustine Alligator and Zoological Farm, St. Augustine Lighthouse and Museum, St. Augustine Aquarium, and the Guana Tolomato Matanzas National Estuarine Research Reserve), and on the shelves of libraries (through her illustrations of children's books, adult and  young adult  novels, and field guides). Laurie's artwork has transformed many a drab hallway or cafeteria where her adventurous murals depict ecosystems in exotic places that can't help but spur the imagination of all who see them.  Her art reaches visitors and residents alike, promoting the environmental richness and unique setting of our county.
 Madeline Catton from Allen D. Nease High School, Brianna Howard, also from Allen D. Nease High School, and Lydia Karl from Creekside High School each received a  $500.00 Jr. ROWITA Fellowship Award. The students all intend to use the funds to further their artistic development.
The Dr Gail Pflaster R.O.W.I.T.A. is awarded each year to honor the contributions women have made to the artistic environment in St Johns County. It was founded by the late Dr. Pflaster, a local writer and committed arts supporter. "There was no one in the community celebrating our local women arts leaders, so Dr. Pflaster contacted me to discuss what could be done to remedy that matter," said Joy D'Elia, former program coordinator for the St. Johns Cultural Council and now the  R.O.W.I.TA. Committee Coordinator. "Thanks to her, we've been celebrating women in the arts since 2009. I am constantly amazed and inspired by the women we celebrate each year."